Description
Let's Eat: Practical ingredients for real recipes
Delta Botanical's CBD Cooking Oils are designed to be practical. That means, when you pick a strength, it yields the appropriate strength dosage in each serving of most recipes.
Restaurants and home  chefs interested in accurately cooking with CBD benefit from the ease of simply replacing a single ingredient in everyday recipes.
The following pages highlight recipes that use different amounts of cooking oil. Customers can use these recipes to guage which strength of Delta Cooking Oil is right for him or her.
The tables below each recipe are a guide to choosing the right strength. They tell how much CBD per serving results from choosing one color strength versus another.
The condition severity chart to the right describes the CBD needs of low-, medium-, and high-severity conditions when added to food.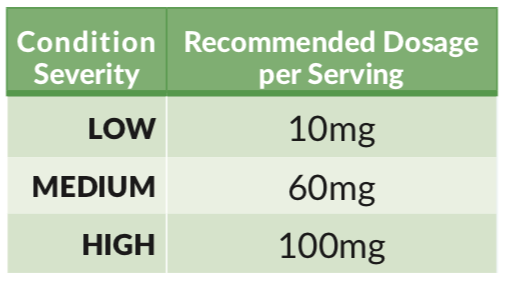 Morning Boost Smoothie
(makes one 12-oz serving)

Ingredients:
2 tablespoons Delta CBD Cooking Oil
1 tablespoon chia seeds
1 1⁄2 ounces kale or spinach (frozen or fresh)
10 ounces frozen pineapple
2 ounces orange juice
1 scoop vanilla protein powder (optional)

Make this smoothie in three simple steps: Blend coconut oil, chia seeds, kale/spinach Add remaining ingredients and blend until smooth. Drink immediately, and enjoy!
Chocolate Chip Cookies
(makes 24 cookies)
Ingredients:
2 1/4 Cups Flour
3⁄4 cup Delta CBD Cooking Oil
1 cup brown sugar
1⁄2 cup sugar
2 eggs
1 tsp vanilla extract
1 tsp salt
2 cups chocolate chips
Preheat oven to 350 F
Line baking sheet with parchment
Beat coconut oil and sugars until light and fluffy, add eggs one at a time, mix in vanilla
Combine flour, baking powder and salt in small bowl. Slowly add flour mixture to mixer. Stir in chocolate chips.
Scoop dough into 2 tbsp rounds. Place on baking sheet
Bake 10-12 minutes, until bottoms are golden brown
Lime and Coconut Salad Dressing
(makes 10 servings, 1-1/4 cup volume)
Ingredients:
1⁄4 cup Delta CBD Cooking Oil
1⁄2 cup cilantro, lightly packed
1 jalapeno
1 teaspoon lime zest +1/4 cup lime juice
1⁄4 cup stirred coconut milk
1⁄2 teaspoon Dijon mustard
1⁄2 teaspoon fine salt
1⁄2 teaspoon sugar
Blend cilantro, lime zest and juice, coconut milk, salt, sugar, mustard, and jala- peno and puree until smooth, about one minute.
With motor still running, slowly drizzle in coconut oil until an emulsion begins to form.
Allow dressing to reach room temperature before serving. Use immediately, or cover and refrigerate for 3 days.
Easy Banana Mini Muffins
(makes 12 mini muffins)
Ingredients:
1 cup whole wheat flower
1/4 cup Delta CBD Cooking Oil
2 eggs
2 ripe bananas, mashed
1 teaspoon baking soda
1⁄4 cup honey or maple syrup
1 teaspoon ground cinnamon (optional)
Preheat oven to 350.
Grease mini muffin tray with coconut oil and set aside.
Take large mixing bowl (or food processor with S blade) and add ingredients as follows: whole wheat flour, Coconut Oil+ Phytocannabinoid Rich Hemp Oil, eggs, mashed bananas, baking soda, maple syrup/honey, cinnamon.
Blend until mostly smooth (some banana chunks are ok).
Spoon the batter into muffin tray and bake 10-15 minutes until cooked through.
Flip muffin tray onto cooling rack to cool to room temperature.
Muffins can be frozen or stored for up to 5 days.
Cooking oils are color coded for severity of condition:

Recognizable Strengths: Blue, Green, Gold, Purple:
The devil is in the details, and human-centered design is everything when it comes to consumable products. Each concentration of Delta cooking oils aligns with our global Delta color system to identify the strength necessary for low, medium, and high severity conditions. This way, a person can pick a Delta cooking oil color that corresponds to the severity of his or her condition, and a single serving of almost any recipe will be the appropriate dosage to address that severity of condition.
More About Our Cooking Oil
Our CBD cooking oil makes it easier than ever to add CBD to your favorite recipes. Our CBD Cooking Oil is high in CBD and provides you with between 15mg and 200mg of Pure CBD per tablespoon.
Our oil delivers the benefits of both CBD and coconut oil. Coconut oil is well known for its positive effects on heart health, weight loss, digestion, calcium absorption, and immunity to name a few.
Perfect for cooking and baking, our new CBD Cooking Oil allows you to come up with delicious and new ways of consuming CBD.
Specifications:
Bottle size:
NET 6.8 Fl. Oz. (200ml)
Uses:
Cooking and Baking
Ingredients:

Non-GMO Fractionated Coconut Oil

100% Organic Hemp Oil