Introducing: Delta Botanicals Coconut Oil + Phytocannabinoid Rich Hemp Oil
If you've been looking for different ways to add CBD to your health routine, we've got a great new option for you! Why not incorporate CBD into the very foods you're already eating with our cooking oil?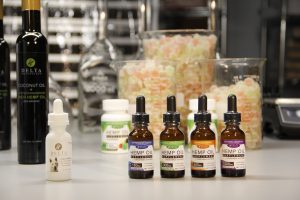 Coconut oil has received a lot of attention for its great health properties, such as supporting the immune and digestive systems, providing antioxidants, and many others. It could be the case that you're already cooking with coconut oil, and that's great. We realized that combining CBD and coconut oil was a convenient way you could get both the benefits of CBD and coconut oil at once, right as you're cooking and baking. This way you can get CBD without having to add another step to your daily routine. You have to eat, right?
Our Coconut Oil + Phytocannabinoid Rich Hemp Oil can be used in place of butter and oil in most recipes. There's no need to refrigerate, it has a very stable and long shelf life. If you like, you can freeze single portions in an ice cube tray and then store them in an airtight container for pre-measured serving sizes to toss in the pan when you're ready to use them.
We have experimented with a few recipes and these are our favorites so far. Give them a try or get creative!
Morning Boost Smoothie
Ingredients
2 tablespoons Delta CBD Cooking Oil
1 tablespoon chia seeds
1 ½ ounces kale or spinach (frozen or fresh)
10 ounces frozen pineapple
2 ounces orange juice
1 scoop vanilla protein powder (optional)
Make this smoothie in three simple steps:
Blend coconut oil, chia seeds, kale/spinach
Add remaining ingredients and blend until smooth.
Drink immediately, and enjoy!
Easy Banana Mini Muffins
(makes 12 mini muffins)
Ingredients:
1 cup whole wheat flower
1/4 cup Delta CBD Cooking Oil
2 eggs
2 ripe bananas, mashed
1 teaspoon baking soda
¼ cup honey or maple syrup
1 teaspoon ground cinnamon (optional)
Preheat oven to 350.
Grease mini muffin tray with coconut oil and set aside.
Take large mixing bowl (or food processor with S blade) and add ingredients as follows:whole wheat flour, Coconut Oil+ Phytocannabinoid Rich Hemp Oil, eggs, mashed bananas, baking soda, maple syrup/honey, cinnamon.
Blend until mostly smooth (some banana chunks are ok).
Spoon the batter into muffin tray and bake 10-15 minutes until cooked through.
Flip muffin tray onto cooling rack to cool to room temperature.
Muffins can be frozen or stored for up to 5 days.
Chocolate Chip & Coconut Oil Cookies
¾ cup Delta CBD Cooking Oil
2 1/4 cup flour
1 cup brown sugar
½ cup sugar
2 eggs
1 tsp vanilla extract
1 tsp salt
2 cups chocolate chips
Preheat oven to 350 F
Line baking sheet with parchment
Beat coconut oil and sugars until light and fluffy, add eggs one at a time, mix in vanilla
Combine flour, baking powder and salt in small bowl. Slowly add flour mixture to mixer. Stir in chocolate chips.
Scoop dough into 2 tbsp rounds. Place on baking sheet
Bake 10-12 minutes, until bottoms are golden brown
Lime and Coconut Salad Dressing
½ cup cilantro, lightly packed
1 jalapeno
1 teaspoon lime zest +1/4 cup lime juice
¼ cup stirred coconut milk
½ teaspoon Dijon mustard
½ teaspoon fine salt
½ teaspoon sugar
¼ cup Delta CBD Cooking Oil
Blend cilantro, lime zest and juice, coconut milk, salt, sugar, mustard, and jalapeno and puree until smooth, about one minute.
With motor still running, slowly drizzle in coconut oil until an emulsion begins to form.
Allow dressing to reach room temperature before serving.
Use immediately, or cover and refrigerate for 3 days.