Our newest product, a CBD honey, is now available! Watch the launch video above or read on to learn more.
Delta CBD Honey uses our same, Full Plant, 0.0% THC CBD that you've come to know and love. With wildflower honey sourced from the rainforests in Brazil, this is the most delicious CBD honey you'll find anywhere.
Easily use CBD Honey to add CBD to your daily routine—it mixes perfectly in coffee, tea, milk, or a smoothie. Or it can simply be added to breakfast items like granola or honey.
Delta Botanicals Hemp Oil Organic Honey Nutrition Facts
Bottle Size: 6oz (252g)
Serving Size: 1 teaspoon
Hemp Oil Per Serving: 36mg
Cannabidiol (CBD) Per Serving: 30mg
Servings Per Container: 36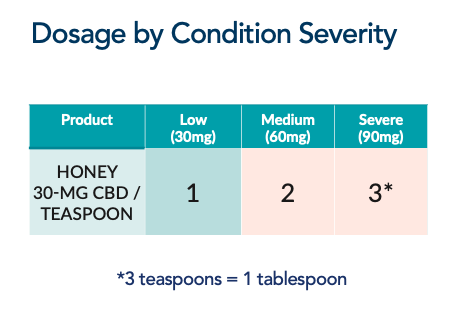 Dosage: The above chart represents the lowest number of teaspoons of honey required for observable effect for low-, medium-, and high-severity conditions. Delta honey contains 30mg of CBD per teaspoon and is designed to fine-tune dosage for low to medium severity conditions.
The duration of effect is approximately 4-5 hours. To titrate, you may either increase the number of teaspoons per dose or increase the number of doses per day. It is recommended that you keep notes of your dosage and observed effects to keep track of titration. For higher severity conditions, we recommend you consider higher strength Delta products or alternative routes of administration (e.g., our oral tinctures which can be taken sublingually).
How we Make Delta CBD Honey
Our raw, unpasteurized Brazilian honey is nutritional, aromatic, delicate, and has a great taste.
Bees operate their hive and store their honey at 95F because that's the way they like it. Any hotter and the beneficial enzymes and sugars break down, ruining the batch, any colder and the supersaturated sugar solution solidifies.
We preserve our little bee friends' hard work by processing our CBD Honey at low temperatures (no more than 95F) with the help of high-frequency ultrasound, which quickly and thoroughly destroys the yeast cells and other bacteria responsible for spoilage and off-taste while preserving the natural sweetness and physicochemical environment of the honey (water, color, acidity, HMF).
Amazing Flavor Requires Amazing Honey
Bees produce honey by collecting nectar from various flowers and returning it to the beehive. There bees process these nectars into honey.
The flavor of each beehive's honey reflects the flavors and aromas of the nectars the bees collect from local flowers. Brazilian honey has many benefits over kinds of honey found in North America.
Brazilian honey, produced from the nectars of rainforest wildflowers, contains no residues of contaminants such as antibiotics and pesticides artificially introduced by North American commercial farmers.
By the process described above, we preserve the light, fresh floral aromas of rainforest wildflowers. These aromas combine with herbal aromas from hemp terpenes to produce an elegantly refreshing addition to any tea or coffee.
If you have a sweet tooth, you might simply try a teaspoon of Delta CBD honey by mouth. At 30mg of active CBD per teaspoon, it has an effect somewhere between our Gold and Purple lines of oral tinctures.
Discover the Delta Difference
Many companies use CBD isolates for cost savings. Not Delta Botanicals.
Our process begins with full-spectrum oil extracted from the hemp plant using liquid CO2 extraction. Then our chemists remove all residual traces of THC via liquid chromatography. That means you receive the full benefits of the hemp plant (including CBD, CBG, CBN, and beneficial terpenes) without any detectable trace of THC.